Please add cokesburycommunity@cokesburycommunity.com to your address book.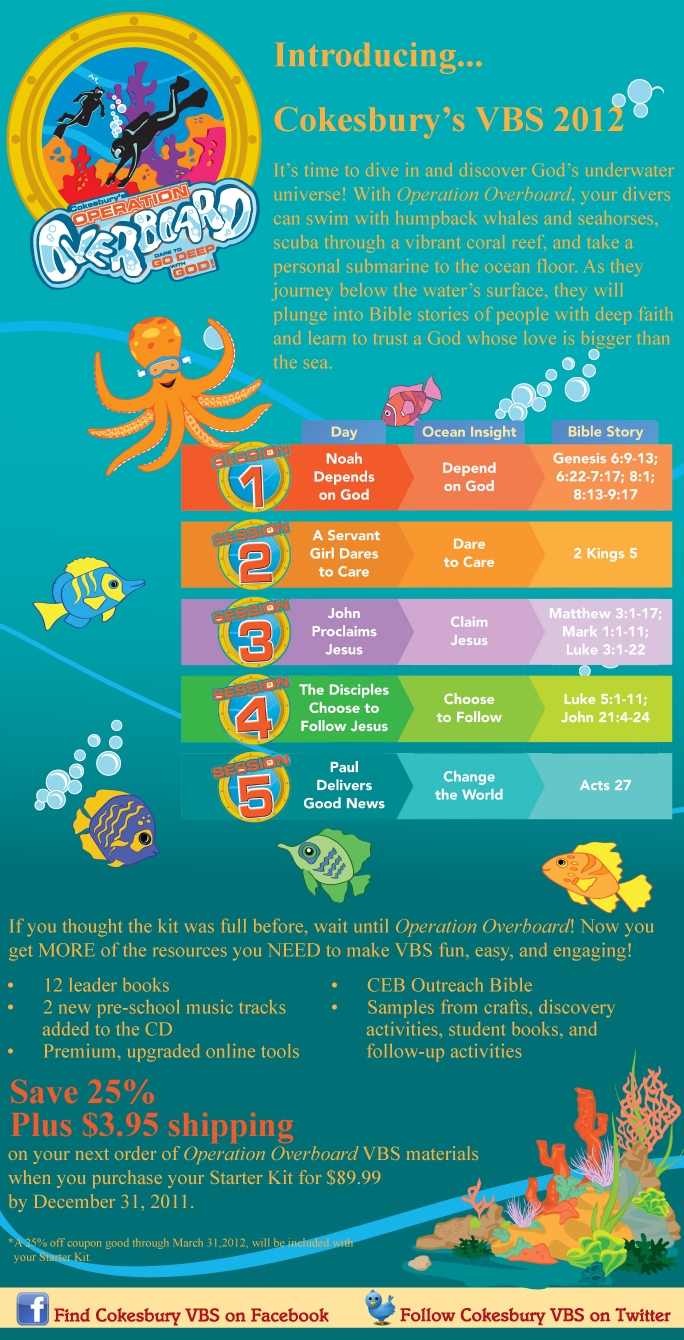 This is an e-mail advertisement from Cokesbury, 201 8th Ave. South, Nashville, TN 37203
E-mail us using this link if you wish to change your subscription preferences for the address !*EMAIL*!
Introducing Cokesbury's Operation Overboard VBS 2012
- Dare to GO Deep with God!
It's time to dive in and discover God's underwater universe! With Operation Overboard, your divers can swim with humpback whales and seahorses, scuba through a vibrant coral reef, and take a personal submarine to the ocean floor. As they journey below the water's surface, they will plunge into Bible stories of people with deep faith and learn to trust a God whose love is bigger than the sea.
Day

Ocean Insight

Bible Story

Session 1

Noah Depends on God

Depend on God

Genesis 6:9-13; 6:22-7:17; 8:1; 8:13-9:17

Session 2

A Servant Girl Dares to Care

Dare to Care

2 Kings 5

Session 3

John Proclaims Jesus

Claim Jesus

Matthew 3:11-17;
Mark 1:1-11;
Luke 3:1-22

Session 4

The Disciples Choose to Follow Jesus

Choose to Follow

Luke 5:1-11
John 21:4-24

Session 5

Paul Delivers the Good News

Change the World

Acts 27
If you thought the kit was full before, wait until Operation Overboard!
Now you get MORE of the resources you NEED to make VBS fun, easy, and engaging!
* 12 leader books
* 2 new pre-school music tracks added to the CD
* Premium, upgraded online tools
* CEB Outreach Bible
* Samples from crafts, discovery activities, student books, and follow-up activities
Save 25% Plus $3.95 shipping on your next order of Operation Overboard VBS materials
when you purchase your Starter Kit for $89.99 by December 31, 2011.
About Cokesbury

Cokesbury is a not-for-profit Christian organization with a simple but dynamic mission statement -to provide quality resources and services that help people know God through Jesus Christ, love God, and choose to serve God and neighbor.

Our goal is to be the first choice when shopping for Christian resources whether online through Cokesbury.com, through our network of stores and sales representatives across the country, or through our call center at 800-672-1789.
When you talk to a Cokesbury representative you are talking to an individual highly committed to the mission, thoroughly knowledgeable about the resources available, and with a strong desire to provide outstanding customer service.

All team members at Cokesbury share a common set of values -
To conduct themselves to the highest ethical standards
To be engaged in and provide service to the communities where they live and work
To practice good stewardship of the earth's resources
To foster a climate of mutual respect, collaboration, and teamwork

Cokesbury—providing resources for the Christian journey.